| | |
| --- | --- |
| ExampleHoroskope | Love Horoscope |
| Period | Daily |
| Starting date | 2017.03.22. |
| Ending date | 2017.03.23. |
---
---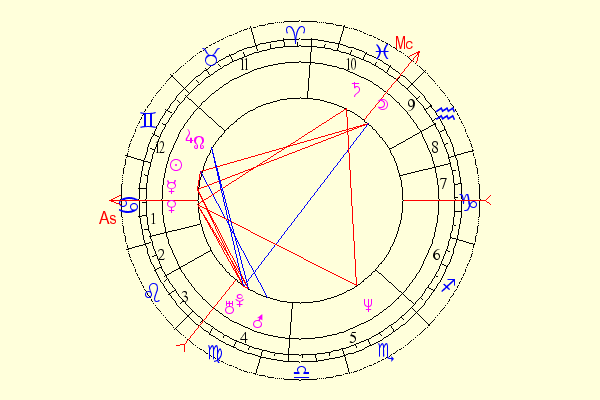 General situation of the day

Moon on that day.

Waning Moon (from Full Moon to New Moon). This is the time when we can analyze the relationship, work out the details of common activities, and fix the mistakes made before. This is the time of abandoning bad relationships or getting rid of what you do not need in your relationship.

Moon in Capricorn

Moon in Capricorn. This position of the moon inclines to romances at work and enhances the ability to combine business with pleasure, giving some pragmatic attitude to love affairs. Try to be persuasive and look solid - this is what you should now pay particular attention to.

Moon Void 21:19-24:00

It is better not to start anything important now. Do not schedule important dates, especially first dates. All important personal agreements are also best done at another time.

Retrograde **====

Venus retrograde

Retrograde Venus. At this time, there may be a delay and inhibition in the affairs of the heart, the return to the old relations or old problems in the relationship. There may be a feeling that you are staying in one place, and do not move forward, but this time is still needed to understand what is required in order to achieve harmony and balance in the relationship.

Individual impacts of the day (interaction of planets with the personal horoscope)

Important planetary influences which act for a long time, and that day falls in the period when they exert effect.

Stressful interaction Saturn with the Sun of your horoscope

This is an important and tense influence, which may require from you self-surrender in love or lead to the decline of energy, in particular the sexual one. You will have to invest a lot of work, patience, and effort in your relationship. This influence may also contribute to the cooling of your relationship or to the setting of more rigid limits for you. Problems of your loved ones may be passed to you, to the point that you will find these relationships a burden. In such case, you may encounter disrespect and ingratitude.

Stressful interaction Neptune Jupiter of your horoscope

This influence is not too important for relationships. But indirectly, it can exert effect on your personal life, if you give way to the uncertainty of plans, participation in questionable projects, dissatisfaction, and other unrealistic searchlights. You can expect disappointment as a result of unjustified optimism and dashed hopes.

Major planetary influences of the day

Favorable interaction Mars Mercury of your horoscope

This influence is advantageous for the emergence of fresh ideas on optimizing your relationship. Your words will not be inconsistent with your deeds - and the partner will appreciate this. You will be able to talk anyone into a relationship, even the person was not going to respond to your feelings. This is the time of short-term affections and meeting new people, the "out of curiosity" and experimental relationships.

Stressful interaction Venus Mercury of your horoscope

This is a stressful influence. It can confuse your love plans creating uncomfortable situations for you, pushing you from those you have tried to have around. In addition, you can hear some unpleasant things from your partner, and be uncertain about his or her intentions. You can even get tired of communicating with those who are sympathetic to you and to whom you are.

At certain times of the day, it is useful to consider the influence of the Moon on your horoscope.

Favorable interaction Moon Pluto of your horoscope 01:05-05:02

This influence can lead to a passionate goodbye and the wish to surround the privacy by the aura of mystery. You also believe that you should not reject anything (but we must remember that everything is good in moderation). During the term of this influence, the sweetness of the forbidden fruit may be particularly enticing. This influence may stimulate changes in the affairs of the heart, the activity of the senses, and risky amorous adventures. This time may be the time of sexual temptations, the embodiment of erotic fantasies with no taboos, and, every kind of full of love excesses in general.

Stressful interaction Moon Venus of your horoscope 06:28-10:24

This influence complicates the achievement of harmony in relationships, reduces the likelihood of a good time with loved ones, matches of tastes and emotional state. It may be hard to please each other to the fullest, and even set in motion all the charm you need to get the expected response. All that is far from perfect in the relationship may become very visible during the duration of this influence.

Favorable interaction Moon Saturn of your horoscope 07:37-11:32

This influence is advantageous for the formalization of relations, official recognition and expression of responsibility in the affairs of the heart. It is possible to combine business with pleasure. It includes office romances too, to strengthen which you may spend some time. Feelings and ambitions can never come as close to each other as right now. This influence feeds traditional courtship and reliance on the stability and durability of the relationship. In sexually, serious attitude and cool head are welcome.

Favorable interaction Moon Neptune of your horoscope 08:32-12:27

Due to this influence, the romantic mood and a desire to grow closer to the ideal of love can awaken. Intimate conversations, chamber atmosphere, music, candles, twilight should be all important components of a successful appointment, if it is occurs at this time. In love nuances and innuendo prevail, and it is wise to rely on intuition and follow the inspiration. It is good if sex takes place in romantic atmosphere, sophisticated, delicate, and soft. And realize your wildest dreams come true.
Astrological forecast is based on the basis of a joint analysis of your birth chart (horoscope), and the exact position of the planets in the forecast period. Based on your birth data we computed and built your individual horoscope, and then analyzed the most significant astrological influence (the motion of planets), consistently, day after day during the forecast period and their impact on your horoscope. As the result we provide you with the individual for you forecast of the major astrological influences. They create a wide range of opportunities and wide range of challenges, thus giving you the choice for certain actions. Provide, but do not oblige. The choice is always yours! Knowing the nature of the effects and time when they are most strongly manifested, you can estimate the degree of difficulty and time to take advantage of these opportunities. You even get the creator of your destiny. The forecast provides guidance to the nature of the effects, the intervals of time when they are most strongly exist: recommendations regarding the optimal behavior during these time intervals in order to achieve success and stability in business. This allows at any time to tailor one's life to cosmic rhythms, unbreakable connection with which is predetermined by nature.
Planetary influences may occur with varying degrees of strength. They can either reinforce each other or contradict each other. Not all the influences can be felt, understood, lead to significant events. In the case of conflicting trends it makes sense to rely on favorable ones and be attentive to matters in those areas for which there is intense impact. 'Tense', 'conflict' and 'complex' effects suggest that the situation in your life needs some changes and it is likely that they will occur. This is the most intense time, which requires understanding of the situation, switching on and studying, usage of energy and strength. Then the changes may be important and positive, this can become the move to another level. 'Tense' aspects can also mean that you will be emotional, irritable, agitated, aggressive more than the usual, so during this time be rigorous to yourself, control yourself and be critical. The presence of intense effects does not mean that you should refuse things that are important to you, you simply need to assess the influence of the circumstances at the moment and make the most rational decision. To neutralize difficult situations try to use time when there are favorable influences along with the tense influences. Favorable influences suggest that the time is good for a particular action and result in this field will be easier to achieve than at any other time. They also point out that this is the best time to reveal your talents, abilities, your potential.